Server Room Network infrastructure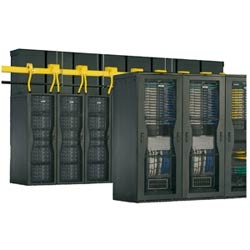 2CoolTek provides installation of central and remote network service areas, from planning to installation, maintenance and repair of cabling to and from these critical segments of your network, with an emphasis on neatness and proper labeling of connections so that  your staff can easily identify where the cabling is connected to on the network.  Whether you are looking for closed secure cabinet racks, or open-faced units for your organization. Our services include installing a wide range of cabling- Cat5/Cat6 or Cat 7, shielded & unshielded, plenum/non-plenum, as well as coax, fiber optic and other low voltage cable installations to provide service for our customer's high speed data, VOIP, and IP surveillance systems.
We install  equipment using the industry brands that are recognized  and respected to guarantee a quality  end result.  Our brands include General Cable, Chatsworth, Berk-Tek, Panduit, Corning and many more.
 Our Services Include:
Engineering and Designing of projects
Server Room Racks and cable troughs/ladders
On Premises Data Wiring -Cat5,Cat6, Fiber Optic and other data cabling from server Rooms
Data cable testing and verification
Emergency Repair & Restoration of damaged equipment
Lightning protected circuits where applicable
Equipment installation
Integrated surveillance systems to monitor network room access
Office wall connectivity
Remote Wiring Closets
Wireless sending and receiving units
Network Diagrams of finished project